Coaching program
"Self-reliance, rather than life as an appendage to a spouse's career, is essential for a healthy relationship"
(Suzie Cannavino, wife of CEO of IBM's PC division)
Are you married to a CEO but feeling there is something missing? You may have lost the most precious gift of life you possess, yourself, in your relationship. My personal mission is to help the specific group of CEO-women by means of counseling to refocus on a stronger, more valuable and happier state of mind and life.
I am an experienced coach with lots of professional and a variation of life experience and especially as wife of a CEO. Furthermore I am very much aware how to raise my young son in the dynamics of an international network / travel and time constraints.
My offer to you
I offer you my insights and transforming qualities by an online training through the 'Rise your power' program
On this website I also you offer relevant information specifically aimed at the target group Wifes of CEO's.
Video: How to be 'Wife of a CEO' and 'Yourself' at the same time!
Non-executive but influential: the power role of the CEO's spouse
Spouses are apparently a major influence and power players in the professional lives of CEOs and business chiefs. Who do CEOs and business owners mainly rely upon for advice when in the process of making crucial decisions?
A few statements of well-known business leaders:
"It is said that although CEOs and business owners have their own teams inside their firms to leverage on for input and advice, spouses play an unique part.

"
"A spouse can be someone to discuss ideas or decisions with but without a judgment or an agenda. If you're in a partnership with someone, you appreciate her thoughts and opinions and take it into consideration."
"You look towards your spouse as the one person that will always have your best interest at heart, and in many cases, the spouse has watched the progression towards the top, so he or she understands the variables at play."
Of course, being valuable to your CEO husband is greatly rewarding. How about creating room for yourself and your dreams at the same time?
Download my free e-Book 'Wife of CEO insider tips' with some practical suggestions.
Are these suggestions appealing to you and would you like to change issues in your life structurally? Sign up today for the online training program 'Rise your power'!
Join the Rise Your Power program! Download free Insider Tips eBook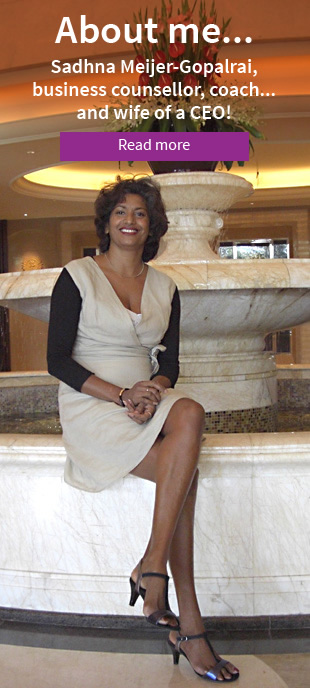 The 7 insider tips about being 'wife of' (eBook)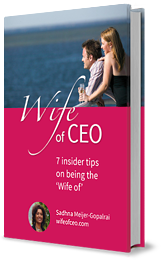 Being visible, being supportive, being his sparring partner, being inspiring... Any woman, married to a business leader, realizes this role could lead to insecurity; she might also become a burden rather than a blessing. If you want to be more happy in this role: learn to take your stage!
How? This and six other steps to self-reliance and a serene life I am explaning in a special eBook. Submit the form below and get it for free!